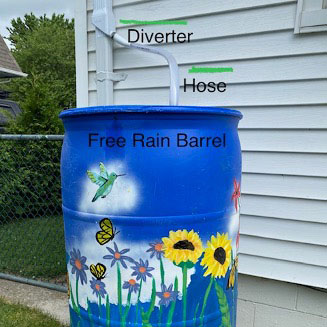 ATTENTION CITIZENS WHO RECEIVED A RAIN BARREL
... The City of Monticello is looking to post on Social Media photos of rain barrels in use this fall and next spring.
This email address is being protected from spambots. You need JavaScript enabled to view it.
Review the latest news about the Rain Barrel program.
Free Rain Barrels for City Water & Wastewater Utility Customers!
In cooperation with Ball Corporation, the City Wastewater Utility Department wants to help relieve some of the utility costs associated with watering your lawn and gardens by providing customers with a Free Rain Barrel! The rain barrels previously contained a non-toxic, biodegradable soap and have been triple rinsed to be prepared for non-potable use as rain barrels.
If you would like a free rain barrel, please call 574-583-7847 or email
This email address is being protected from spambots. You need JavaScript enabled to view it.
. Provide your:
Full Name
Phone Number
Email address
Home address
Customer ID number (found on your water bill)
We can only provide the free rain barrel at this time. You can purchase drain spout diverter kits for your rain barrel (see diagram) locally.
Information about rain barrels and instructions for installing diverter kit & hose spigots can be found on YouTube.
Please Note: Rain Barrels do not come painted as pictured above.