White County - YELLOW Guidelines until Feb. 24, 2021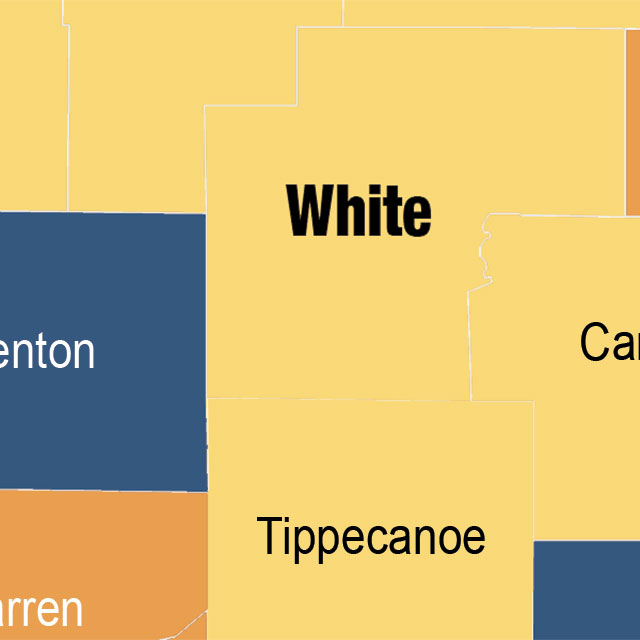 White County is currently YELLOW. Current map reflects February 15, 2021. Update each Wednesday. See the weekly stats by clicking here (scroll down for map).
Original State of Indiana Executive Order outlining general guidelines and county color guidelines
White County Guidelines (Moderate Spread -Yellow):
The county improved to a point score of between 1.5-2.0 when percent positivity and new cases per 100,000 residents are combined. The county is under yellow guidelines.
These requirements remain in effect until the metric returns to red or moves to the lower yellow level (for two weeks).
Actions may include:
All general requirements are in effect. Hoosier businesses remain open.
The Indiana Department of Health will convene local public health officials, local health care providers, elected officials, school leaders and other key stakeholders to discuss actions that will be taken. State agencies will provide further support upon request.
Local Officials
Local health officials should evaluate the source of positive tests, undertake targeted testing where appropriate; and issue isolation or quarantine orders where necessary.
Local health officials, health care providers, elected officials, school leadership and other key local leaders must convene regularly to discuss actions that could be implemented to decrease the spread of COVID in their communities.
School officials should review plans for all extra-curricular activities and assemblies to ensure compliance with capacity/ attendance restrictions and other best mitigation practices are being followed.
Measures and Restrictions:
Individuals and businesses in counties designated as Yellow must comply with all general requirements set forth in
State of Indiana Executive Order 21-01
(
Español version
) subject to the following modifications:
A social gathering may have up to a total of 100 individuals provided social distancing requirements can be achieved and maintained, face coverings are worn, and other sanitation measures are implemented at the site where the gathering occurs.
Any social gathering where more than a total of 100 individuals are invited or expected is not advised and should be cancelled or postponed. However, if a social gathering of over 100 individuals cannot be cancelled or postponed, the host of the social gathering must submit a safety plan to the local health department and receive approval from the local health department before proceeding.
By accepting you will be accessing a service provided by a third-party external to https://monticelloin.gov/