Fire Department History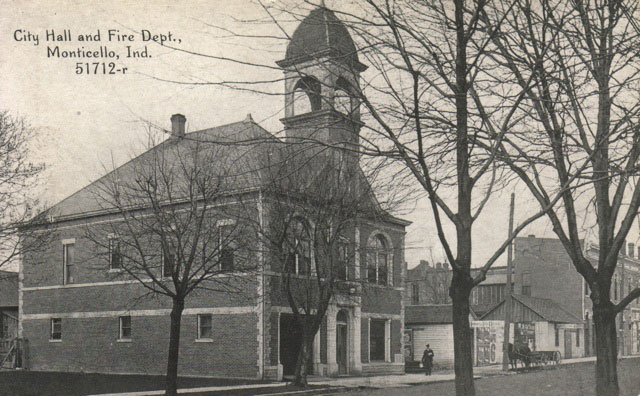 In 1869, the Monticello Hook and Ladder Company was formed. In 1904, city leaders built the brick Monticello City Hall. That original structure continues to be the heart of the Monticello Fire Department. In 1969 and again in 1994, major renovations were added to meet the demands of a growing department. In 1975, the Monticello Fire Department assumed the responsibility of being the ambulance providers in the City of Monticello.
The original 1904 Monticello City Hall cost approximately $12,000 to build, according to The History of White County publication. "It is the handiwork, both as to plans and construction, of Samuel Young, a local architect. As its cornerstone testifies, the building was erected while John H. Miller, Alvin Witz, Charles Roth, F.B. Robison and John H. Henderson were members of the Board of Trustees," reads Hamelle's History. "The Marshals' office and jail, as well as quarter for the fire apparatus, are on the ground floor. The second story houses the council chamber and offices for local departments."
Originally on top of City Hall was a bell tower. City officials believed the tower was unsteady and had it removed literally weeks before the devastating 1974 tornado hit Monticello, recalls the White County Historical Museum Curator. Former Herald Journal Publisher Robert G. Fisher saved the tower from destruction and housed it on his family's Ohio Street property. The
historic bell tower
was later moved and is now preserved as a historic landmark next to the
White County Historical Museum
on South Bluff Street.