El Condado de White Continua como Naranja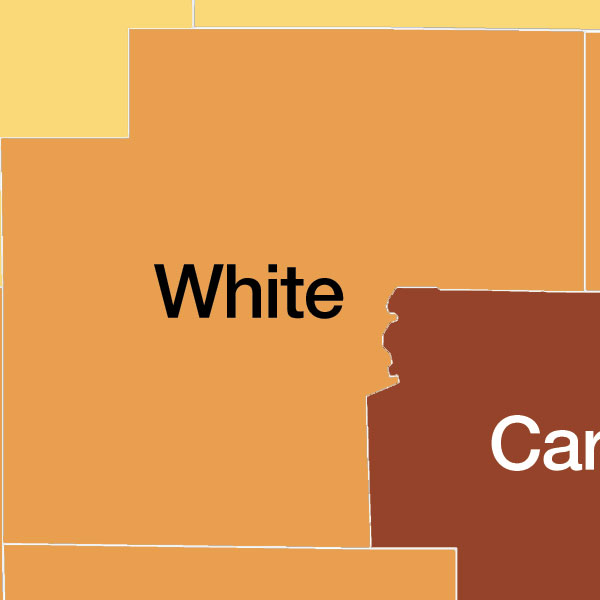 El estado del Condado de White es actualmente naranja. El mapa actual refleja el 6 de septiembre de 2021. El mapa se actualiza todos los miércoles. Vea las estadisticas semanales haciendo clic aquí (desplácese hacia abajo para ver el mapa).
Pautas del Condado de White (Propagacion Moderada en la Comunidad—Naranja): El condado recibió una puntuación de 2.0 < 2.5 cuando se combinan el porcentaje de positividad y los casos nuevos por cada 100,000 residentes. El condado está bajo pautas naranja. Estos requisitos permanecen vigentes hasta que la métrica vuelva a roja/amarillo/azul o se mueve al nivel que ha pasado el peligro.

Las acciones pueden incluir:
Todos los requisitos generales están vigentes. Los negocios de en el Estado do Indiana permanecen abiertos.
El Departamento de Salud de Indiana convocará a los funcionarios de salud pública locales, los proveedores de atención médica locales, los funcionarios electos, los líderes escolares y otras partes interesadas clave para discutir las acciones que se tomarán. Las agencias estatales brindarán más apoyo a pedido.
Funcionarios Locales:
Los funcionarios de salud locales deben evaluar la fuente de las pruebas positivas, realizar pruebas específicas cuando corresponda y emitir órdenes de aislamiento o cuarentena cuando sea necesario.
Los funcionarios de salud locales, los proveedores de atención médica, los funcionarios electos, el liderazgo escolar y otros líderes locales clave deben reunirse regularmente para discutir las acciones que podrían implementarse para disminuir la propagación de COVID en sus comunidades.
Medidas y Restricciones: Las personas y las empresas en los condados designados como Naranjas deben cumplir con todos los requisitos generales establecidos en la Orden Ejecutiva 21-23 del Estado de Indiana.
Stay Informed
When you subscribe to the blog, we will send you an e-mail when there are new updates on the site so you wouldn't miss them.